SIRCUIT® COSMECEUTICALS FOUNDER PROFILE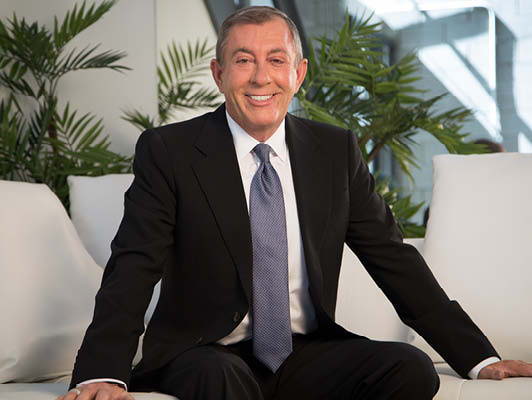 SIRCUIT® Cosmeceuticals Inc. was created by Michael Wolfgeher who operates as CEO and Founder.
Michael comes with over 15 years of experience in the Beauty and Skincare sector with expertise in International Consumer Marketing, Brand Management, and Digital Content Creation. As CEO of SIRCUIT® Cosmeceuticals, Michael oversees all marketing efforts across the Brand, including marketing development, consumer engagement, product development & all Media and Advertising. Our only thing is skin!
Prior to SIRCUIT®, Michael spent over 10 years in the fashion denim industry, where he was most recently Senior Vice President of Manufacturing at Steel Jeans and responsible for its $70M portfolio worldwide. He oversaw all aspects of the consumer experience including Strategy, Communication, Product Development and Merchandising across all of Steel's product lines globally. Michael led the Brand through a successful run and left delivering both Net sales and profit by building the Brand from zero to relevancy with strong market share growth.
Before Steel Jeans, Michael spent 15 years in the garment industry focused on Women's Collections and Ready-to-wear, where he was responsible for the development and delivery of consistent Brand messaging and overall advertising at Retail.
Michael is originally from Seattle, Washington and currently resides in Los Angeles, California.
IN HIS OWN WORDS:
How all this got started?
SIRCUIT® is more than just a beauty brand, it's a full-service niche company that offers an extensive skincare collection that focuses on addressing multiple skin conditions. It is an integral part of an overall wellness life style for thousands who appreciate and search for a "clean and green" skincare system.
We are founded on a solid belief system that starts with a simple "be good to yourself" approach and a healthy strategy of trying to do everything right, not just a few things right. It's an expansive collection (54 different formula systems) with some big ideas and is probably one of the biggest secrets you haven't heard about… yet.
For those of you that have asked me how this all began … where do we start? You see, it all started very organically and with a personal specific need.
I have very sensitive, dry skin and had a hard time finding anything in the market (Women's or Men's beauty counters) that addressed this without breaking out. It was very confusing trying to read the ingredient labels on the products I thought might be good for me. First I couldn't pronounce or understand the actual ingredient names and they we're hard to focus on because they are printed in incredibly small type. Regardless, even if I could understand the ingredients or not, every product I bought would leave me with itching, irritated red bumps.
I explained this problem to a friend of mine who was in the beauty industry and asked him, that if he ever came across a new or different kind of product, to please let me know. A few months later he rang up and said he did find something new and thought I would be very excited. A week later he introduced me to this amazing company that was pioneering a new way to formulate skincare products utilizing an advanced ingredient technology called Chiral Technology.
Chiral (pronounced Ki,Ral) Technology? Ummm OK??? Little did I know then that this casual meeting would change my life.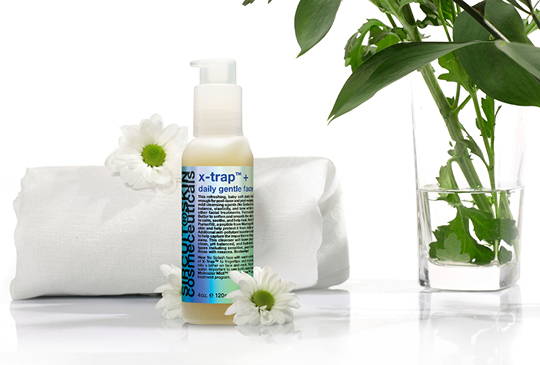 He gave me a sample of a cleanser (which later became the starting point of one of our best-selling cleansers called X-Trap). I took it upstairs and used it to wash my face. Immediately it lathered up and felt incredible. I had no words for the experience other that it simply felt, right! Not squeaky clean but my face felt fresh and soft. I came downstairs and said, "OK, I'll buy it." He said, "you can't buy it, you need to develop it." I asked more questions about Chiral Technology (?) and was wondering why everyone wasn't using this. He explained that the second word of the Beauty Business was business and that the added expense (margins) wasn't something that appealed to many in the beauty industry, no to mention the limited availability of raw materials.
This intrigued me more and I set out to do some good ol' fashioned "interweb" research for myself.
I spent the next 6 months studying up on everything Chiral and how I might be able to break into this billion-dollar skincare industry. What I discovered was that Chiral Technology was well known in the pharmaceutical industry with trade shows all over the world. I learned that this "technology" was discovered by Louis Pasture in 1848 and that it was mainly used in the medical drug development industry. I learned that many of the most successful over the counter drugs were formulated using this process. I also learned that the process was very effective at reducing the chances of potential adverse reactions. In fact, so much so, that the FDA had mandated that this process to be considered in all the new drugs waiting for FDA approvals. I also learned that K. Barry Sharpless was awarded the 101st Nobel Prize in Chemistry in 2001 for his work with Chirality and advancing it's understanding and use. I was quite impressed by what I was learning and wanted to know more.
During this time, I had jumped in and began working on a small line of 7 products. A cleanser, moisturizer, exfoliating scrub and a serum. I also added a shampoo and conditioner and an amazing shaving crème. These finished formulas were fantastic. No reactions, no itching red bumps and I was hooked. I decided to move forward and introduce this small line at "skincare" home parties around Los Angeles, primarily to test the market to see if other people felt the same way. Although I loved these products and they worked for me … would they work for anyone else?

I was surprised by the positive response we received and it took off from there.

Having a solid understanding of the skin and its needs I was confident that using better ingredients in the formula would affect the performance of the product and is one of the main reasons why using advanced Chiral ingredients ensures the finished product performs better. It's why I believed it was a smart choice to go beyond the traditional ingredient formulations available and use advanced Chiral technology in the products we offer. If the goal was to create the best products available then it just made common sense to incorporate this technology into all the products we offer.
Simply put, Chiral technology (molecular separation) allows us to improve the performance of ingredients we use in our products. This advanced step of purification and preparation ensures our formulas have a more profound effect and deliver exceptional results.
However, even with amazing formulas that were light years ahead of what the industry was using and formulating paraben free from the start, it is a crowded industry with a new skincare company popping up on every corner, we had to make sure our name was as good as the products we offered. It was not going to be easy.
We ended up choosing the name SIRCUIT® Cosmeceuticals and here's why.
We used the analogy of Circuit training your body at the gym. In that setting, you move from one station to another, with a goal of achieving the desired fitness goal in a faster timeline. We utilized the same approach for your face. Moving from a cleanser to a serum to a moisturizer, like "SIRCUIT®" training for your face. We added the S to change it up so we could get it registered. Because of our advanced ingredient technologies, we took a "Cosmeceutical" approach and felt that what we are offering absolutely raises the bar on what a skincare company should be providing to its clients.
It all started back in 2002 in my actual garage. We grew slowly and steadily which means we migrated into the living room and eventually the whole house. We had to move all the living and dining room furniture out to just make room for product racks and computer stations. We just kept at it.
5 years later we moved into a beautiful corporate office located just outside of the Los Feliz area in Los Angeles. We started small and carefully grew the company to now be in a position of selling to Physicians, Spas, Resorts, Celebrities and individual clients, worldwide. To think it all started with 7 individual products for one market … and now we have a growing portfolio of over 54 exclusive formulas (along with a complete Professional division) developed for multiple market segments. Whew.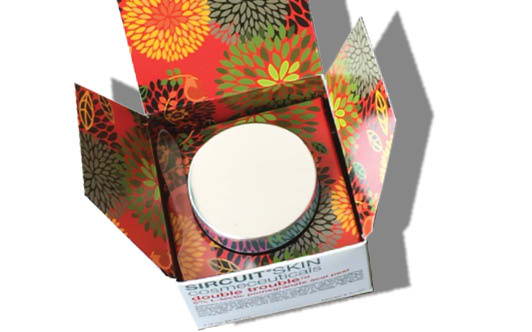 It really is amazing how quickly time flies when the focus of all our attention is on the products we develop and listening to what our clients' needs are. Just the thought of writing this down is mind boggling and very humbling.
It's obsessive really. We develop products with parental pride and special attention on making sure they are of exceptional quality. Because we understand that quality is not simply defined by how much you spend on a product but more about the performance of the product you purchase. I mean really, how good is a product if it doesn't perform… no matter how much you paid for it?
We believe that it's the small details that define the difference of having an ordinary experience with a product or an exceptional one. Our goal is the second one.
We don't stop there, we also pay attention to how the formula smells, looks and feels. An example of this is, is our enticing essential oil blends smell so luscious but also how they quickly dissipate so as not to compete with other products you may be using.
All our beautiful formulas are authentically formulated with strategic intentions and are not brought to market unless they perform as designed.
Isn't that what you've always wanted in a skincare brand?
Another important point is that we have always had a solid philosophy of ingredient truth. We have always listed every single ingredient in the products we offer. Not just the "featured" ones. We feel strongly that it is your right to know exactly what you are using on your skin and you'll see this everywhere on our website and individual product information along with information about how an ingredient is going to address your specific issues or concerns. Otherwise how do you know if it is "working"?
Overall, our products encourage the optimum in cell health and are designed to keep each individual cell as supported as possible. This leads to a healthier approach to your entire lifestyle and helps to slow the clock, if you know what I mean. How about healthy aging rather than anti-aging? Just a thought.
Let's just say we have learned a lot since those early days, but our starting principle has always remained the same … be good to yourself. Understand your skin and take good care of your body. Drink lots of water, eat well and trust that the ingredients used to formulate the skincare products you decide to purchase can and will make a difference in the results you'll ultimately achieve.
Ingredients do matter and oh, by the way, how many companies do you know that have maintained the same price points for over a dozen years? Just asking. :)
For more information on how to be part of our experience and become a SIRCUIT® Cosmeceuticals Professional Partner call us directly at 1-888-661-4544.